Austrian Green Planet Building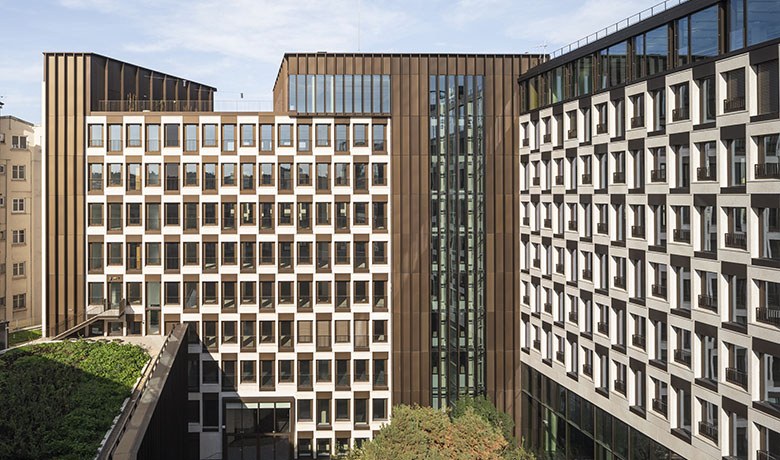 Welcome at Austrian Green Planet Building®
Worldwide Sustainable Building "Made in Austria" – that is AUSTRIAN GREEN PLANET BUILDING® (AGPB).
Awards 2023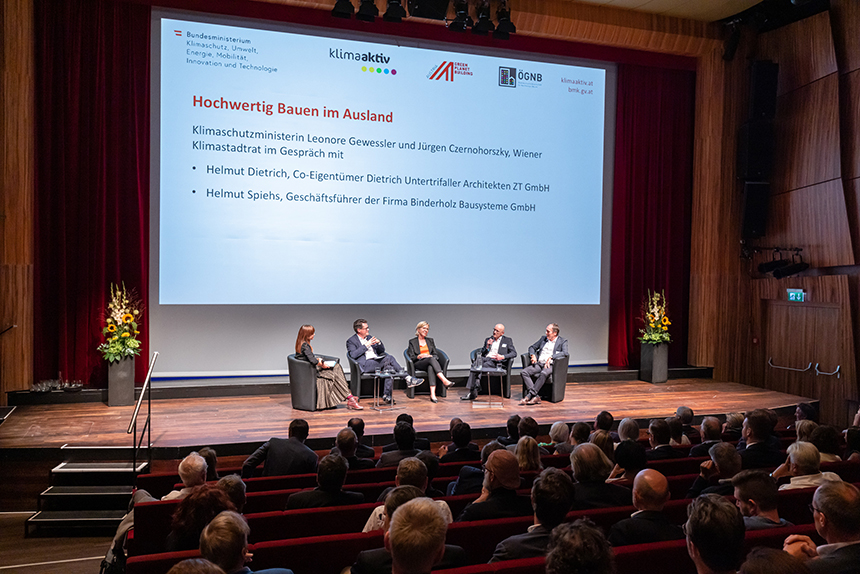 © APA-Fotoservice/ Krisztian Juhasz
All buildings awarded with the AGPB Award and the AGPB Technology Award in 2023 were presented on 19 September together with their "Viennese colleagues" awarded by klimaaktiv and ÖGNB at the event "Darauf bauen wir: Sanierung und klimafitte Gebäude für die Zukunft!" The Austrian companies involved received their certificates in the presence of Federal Minister of Climate Action Leonore Gewessler, City Councillor Jürgen Czernohorsky and embassy representatives from Germany, Sweden and Great Britain.
Once again, we congratulate all the award winners!
And we are already looking forward to new buildings: AGPB awards the know-how of Austrian companies applied worldwide: This is how sustainable building "Made in Austria" works!
You can find the press release of the Federal Ministry of Climate Action here. Photos in print quality can be downloaded here.

---
Invitation to the building conference "That's what we're building on: Renovation and climate-fit buildings for the future" and to the awarding of showcase projects in the building sector.
How does sustainable stock development and renovation of our buildings work? How do we get from the lowest energy building to the net zero building? How do we use instruments such as taxonomy, portfolio development or renovation roadmap? These and many other challenges, possible solutions as well as awards for implemented showcase projects in the building sector are the focus of the event "This is what we build on: Renovation and climate-fit buildings for the future".
After workshops and the discussion round with Federal Minister Leonore Gewessler, the Vienna City Councillor for Climate Jürgen Czernohorszky and other guests, showcase projects will be presented and awarded.
Time and place
Tuesday, 19 September 2023
15:00 to 18:30 (followed by networking)
das MuTh
Am Augartenspitz 1, 1020 Vienna
The programme in detail.
You can register until 14 September at this link.
If you have any questions, please feel free to contact us by e-mail at office@agpb.at, or by phone at +43 699 152 361 19.
The event is organised by the Ministry of Climate Protection with its initiatives klimaaktiv and Austrian Green Planet Building (AGPB) together with the Austrian Sustainable Building Council (ÖGNB).
---
AGPB Award 2023 - first award!
The first building to receive the AGPB Award 2023 has been chosen: the "markas Headquarters" in Bolzano, Italy! 1,800 plants and a water basin as climate regulators, high daylight factor, automatic sun protection, heat pump, ... Here, the full reservoir of climate-efficient construction has been sustainably tapped. Further information on the project can be found here.
---
Submit NOW for an AGPB AWARD!
After two years of pandemic, the international construction industry is picking up steam again. Austrian companies, architecture and planning offices are at the forefront when it comes to particularly energy-efficient construction for climate protection. Together with ADVANTAGE AUSTRIA, the BMK is honoring the achievements with AGPB AWARDS. Project developers, architects and consultants can submit their projects to the AGPB office! The best thing to do now is by direct contact.
---
That was the Austrian Green Planet Building® Award 2022
It was a great pleasure for us to celebrate sustainable building "Made in Austria". 14 buildings in nine countries and well over 20 Austrian companies were honored with the Austrian Green Planet Building® Award 2022 on November 30. More information and photos of the event can be found here.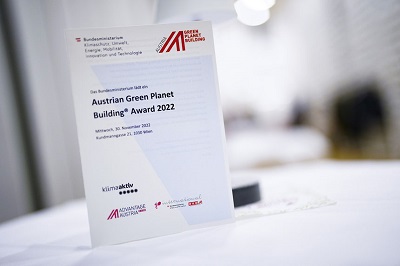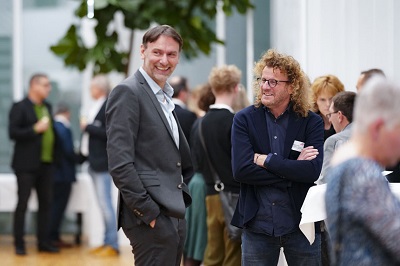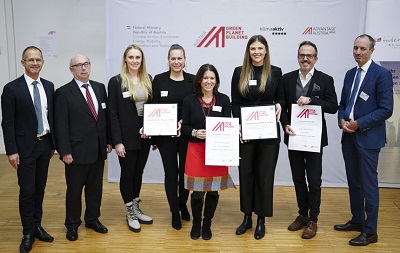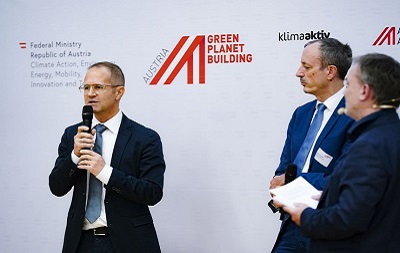 © Eva Manhart für AGPB
---
The AUSTRIAN GREEN PLANET BUILDING team at the GreenTech Days 2022, an event organized by ADVANTAGE AUSTRIA: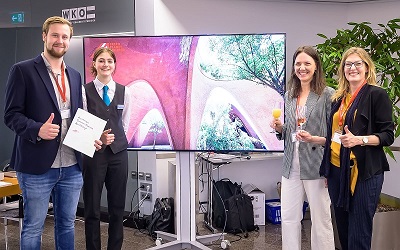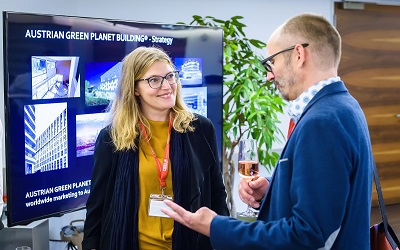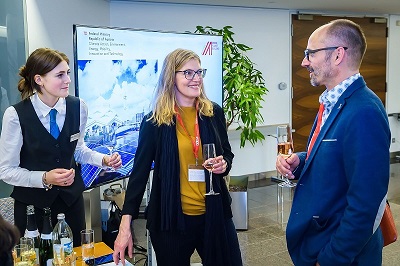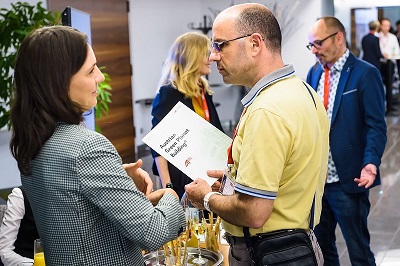 © Marko Kovic / WKÖ Aussenwirtschaft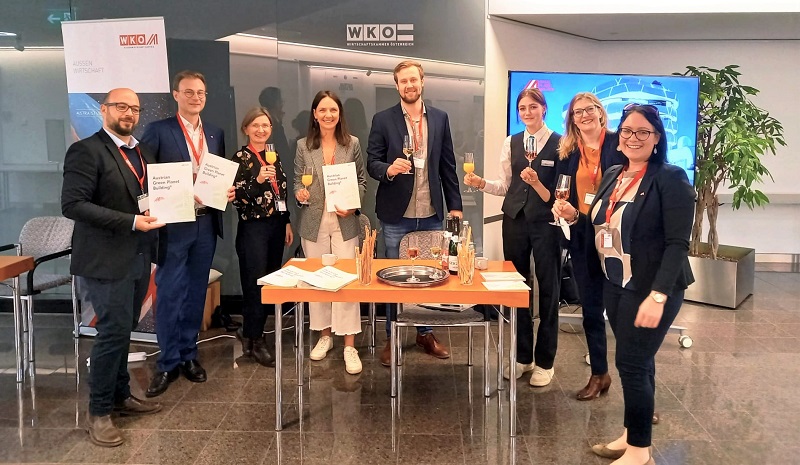 © Beatriz Schönstein-Wippel
---
The first AGPB AWARD '22 goes to querkraft architects, EXPO20 Pavilion Dubai!
Outstanding architecture, a clever building concept and lowest energy consumption in operation tell their own tale, the project description can be found here: EXPO 2020 Pavilion.
All projects honored at the Future of Buildings 2019 can be found here!
Austrian Green Planet Building (AGPB) stands for high-quality standards for sustainable construction: Energy efficiency and renewable energy supply are the key factors for a CO2-neutral building sector and are therefore the focus of Austrian Green Planet Building.
In Austria, more than 1.500 buildings have already been constructed under consideration of the quality criterias of klimaaktiv, the Austrian initiative for climate protection. Austrian Green Planet Building spreads this know-how worldwide under the joint umbrella brand of the Austrian Federal Ministry of Climate Action, Environment, Energy, Mobility, Innovation and Technology (BMK) and ADVANTAGE AUSTRIA of the Austrian Federal Economic Chamber.
The AUSTRIAN GREEN PLANET BUILDING AWARD supports Austrian architects, building consultants, construction companies and technology enterprises by promoting their outstanding buildings for climate protection abroad.